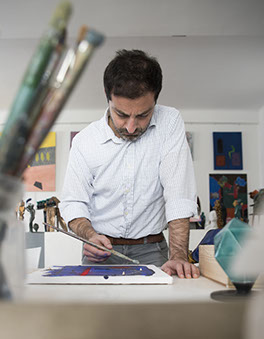 Born in Grottaglie (TA), Apulia Puglia, Italy, on August 6th 1981.
He experienced ceramic art and sculpture since childhood within the internationally renowned family workshop (five generations old), where he practices nowadays in Grottaglie, one of the well-know ceramic Italian centres settled since many centuries in a specialized neighbourhood of ceramic workshops. He graduated in Architecture on March 2006 in Rome at Sapienza School of Architecture.
He worked at Studio Fuksas Associati in Rome, at Coophimmelb(l)au Studio in Wien.
He has participated in design competitions obtaining prizes and mentions.
Since 2009 he lives and works in Grottaglie with the idea of experimenting and developing a repertoire in the field of artistic ceramics based on the tradition of craftsmanship artistic and its possible future developments in the third millennium.
Since 2013 Vincenzo collaborates with Andrea Berton designing and producing table-sets and design objects for Andrea Berton Restaurant in Milan.
In 2014 he collaborated with Italo Rota for Sarco-phagus Between Nature, Love and Death ".
From 2017 he collaborates with the company Vulcania Ceramiche, designing the Gourmet line and the fire pans line for induction.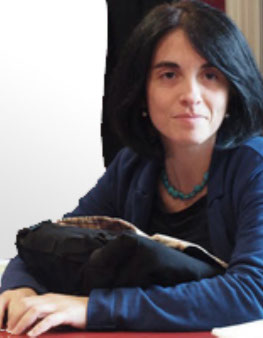 Born in Grottaglie (TA), Apulia Puglia, Italy, on June 7th 1977.
Full time Tenured Assistant Professor at Sapienza University of Rome since 2008. Graduated in Architecture at Sapienza on 2000 in Architectural Design – Theory of Architecture (2006). Visiting Scholar at Columbia University of New York (2003) and at Tsinghua University of Beijing (2004). Visiting teaching Programme at Architectural Association London 2008. She wrote articles and books on contemporary architecture and metropolis, with special attention for the chinese sub-continent and developing countries. She practiced as architects in Leopoldo Rosati Office in New York from 2000 to 2003 (co-designing the architectural desin of a private residence in Atlantic City which got a mention in Premio Giovani Accademia di San Luca 2006). She runs the research activity at DiAP Dipartimento di Architettura e Progetto of Sapienza and teaches Architecture and Urban Design at Faculty of Architecture Sapienza University of Rome. Since July 2010 is Aspen Junior Fellow and now Former Aspen Junior Fellow.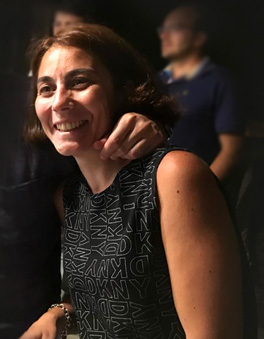 Born in Grottaglie (TA), Apulia Puglia, Italy, on February 28th 1980.
Graduation in Architecture at Faculty of Architecture "L.Quaroni" Sapienza University of Rome on 2004.
She worked with Studio Archea in Florence (2004-2006), with Studio Fuksas in Rome (2006-2008) and RTKL in London (2008).
She participated to design competitions with mentions and prizes as Europan 9.
She has developed skills in competition design process and construction documents. She worked as architect in Savelletri (BR) to the final stage design and construction of Borgo Egnazia Hotel Villas Golf Spas (2009-2011) included interiors and product design. From 2011 to 2014 she coordinated the site construction works of a tourist settlement (about 120 dwellings) in Villanova (Ostuni, BR).
General project manager for construction, structural works, restoration of historic buildings for the project for redevelopment, valorisation and management of the tourist harbor of Villanova di Ostuni (Br) instance of maritime demonstrative concession within the meaning of article 36 of the navigation code.